June 30, 2019 - 421 views
| | |
| --- | --- |
| Genre | country, comedy, singer-songwriter, novelty, humour |
(For the actor and singer with The Village People, see Ray Stephens.)
Ray Stevens (born Harold Ray Ragsdale, 24th January 1939) is an American country and pop singer-songwriter, best known for a series of irreverent, quirky singles such as "Mississippi Squirrel Revival" and "The Streak". His recording career began with two singles released on Prep Records, followed by a short stint with Capitol Records. Both contracts were made with the help of Atlanta, Georgia music maven Bill Lowery.
Stevens joined Lowery's National Recording Corporation in 1958, where he also was a member of the NRC staff band, playing numerous instruments, arranging, and doing background vocals. When NRC went into bankruptcy, he signed with Mercury Records, and started a series of hit records in the 1960s that included "Ahab the Arab" and "Jeremiah Peabody's Polyunsaturated Quick-Dissolving, Fast-Acting Pleasant-Tasting Green and Purple Pills". The later song held the record as the longest title to hit the Top 40 chart until being surpassed in 1981 by the Stars on 45 Medley, whose official title included the titles of 10 other songs because of copyright requirements.
Stevens became a producer and well-known studio musician on the Nashville scene, and recorded hits for Monument, Barnaby, Warner Brothers, MCA and RCA. Perhaps his most famous hit is "The Streak" (1974), which poked fun at the early-1970s "streaking" fad of running nude in public; this was a No 1 in both the UK and the USA. His novelty song "Bridget the Midget (The Queen of the Blues)" reached No 2 on the UK chart in 1971.
Stevens' biggest hit was his gospel-inflected single "Everything Is Beautiful" (1970). A plea for love and tolerance during turbulent times in the United States, the song shot to Number 1 there. Stevens has won two Grammy Awards: one for "Everything Is Beautiful" and one for the arrangement of his country and western version of the jazz standard "Misty" (1975). He also recorded a version of Glenn Miller's "In the Mood" in the style of a clucking chicken, under the pseudonym Henhouse Five Plus Too. This was a Top 40 hit in the US and UK.
With the popularity of the song "Everything Is Beautiful", Stevens had a variety show on CTV. The Ray Stevens Show appeared in Canada in 1970 and soon appeared in the United States on NBC and the United Kingdom on the BBC. Although it only has eight episodes, it is mostly known for being the show that launched the career of regular cast member Steve Martin.
Ray Stevens was inducted into the Nashville Songwriters Hall of Fame in 1980. In 1991, Stevens opened the Ray Stevens Theater in Branson, Missouri. He performed there regularly until 2006, when he sold the theater.
In 2012, Stevens released The Encyclopedia of Recorded Comedy Music, an 8-CD collection of what Stevens considered the 96 greatest comedy songs of all-time.
In the fall of 2019, Stevens will be inducted into the Country Music Hall of Fame.
Source
Top Tracks
1
The Streak
2
Everything Is Beautiful
3
Mississippi Squirrel Revival
4
Misty
5
It's Me Again, Margaret
6
Gitarzan
7
Shriner's Convention
8
Santa Claus Is Watching You
9
The Battle Of New Orleans
10
Ahab the Arab
Top Albums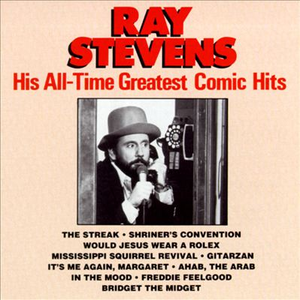 His All-Time Greatest Comic Hits
tracks