 December 12, 2019 - 844 views
| | |
| --- | --- |
| Genre | comedy, stand-up, stand-up comedy, Redneck, humor |
Jeffrey M. Foxworthy (born September 6, 1958 in Atlanta, Georgia) is an American comedian and actor who is best known for his work as a stand-up comedian. He was a member of the class of 1979 at Georgia Tech in Atlanta, and worked for five years in mainframe maintenance at IBM (where his father also worked) before, at the urging of co-workers, entering and winning the Great Southeastern Laugh-off at Atlanta's Punch Line comedy club in 1984.
In 1993, he released You Might Be a Redneck If… which started the "You Might Be a Redneck" fad, topped the comedy album charts, and sold more than 3 million copies.
In 1995, he starred in The Jeff Foxworthy Show, a sitcom created out of his stand-up comedy persona. It aired on ABC, but was cancelled after one season. NBC subsequently picked up the show, but it was again cancelled after one season. Foxworthy later remarked that the network did not understand how to properly market his humor; thinking his routine was "too Southern" for a national network, they based the first season of his sitcom in Bloomington, Indiana. The ABC run of the show can now be seen on Nick at Nite and CMT.
In the early 2000s, Foxworthy had a career resurgence as a result of the "Blue Collar Comedy Tour," in which he and three other comedians (Larry the Cable Guy, Ron White, and Bill Engvall), specializing in common-man comedy, toured the country and performed for record crowds. The tour lasted three full years, constantly being extended after an initial run of 20 shows.
In 2004, he launched a new television show called Blue Collar TV on The WB Television Network and Comedy Central. He serves as executive producer, and stars alongside Blue Collar Comedy Tour-mates Larry the Cable Guy and Bill Engvall. (Ron White turned the show down but made occasional guest appearances.) The show was relatively successful compared to the anemic performance of the WB's other sitcoms. However, on Larry the Cable Guy's website, he says the show was "cancelled" on October 17, 2005 by the network. Reruns of "Blue Collar TV" continued until the network merged with UPN to form The CW.
Jeff has resurrected the "Blue Collar TV" format (albeit with only himself participating along with some of the Blue Collar TV co-hosts) called "Foxworthy's Big Night Out," which airs on the Country Music Television channel in America. (CMT) "Foxworthy's Big Night Out" began airing in summer 2006.
Foxworthy also hosts The Foxworthy Countdown, a nationally syndicated weekly radio show featuring country music hits.
Foxworthy has authored books including You Might Be a Redneck If… (1989) and related "redneck humor" books, as well as No Shirt, No Shoes, No Problem! (1996). He also has released a cookbook entitled The Redneck Grill, co-authored with David Boyd, and Jeff Foxworthy's Redneck Dictionary: Words You Thought You Knew the Meaning Of (2005).
In 2005, Jeff Foxworthy was roasted in a TV special called Comedy Central Roast of Jeff Foxworthy.
—->Triva:
Foxworthy has been married since 1985 to Pamela Gregg. They were married in Central Park. Based on a popular Foxworthy routine, Pamela will often be greeted in public with "So you're the one with the cold butt!" (A line from the bit: "Why is it that when a woman gets into bed, the temperature of her feet and butt drop to below freezing? . . . I can lick my hand, put it on my wife's butt, and it will stick.") The couple are the parents of two daughters, Jordan (b. 1992) and Julianne (b. 1994).
Contrary to popular belief, he is not the cousin of Bill Engvall.
His family has nine young girls. He has two, he lives next to his brother, who has three, and their sister has four.
Later on in 2006, Foxworthy will voice the character Lyle in the Disney movie The Fox and the Hound 2.

Turned down a part in the movie RV because he felt that he would be away from his family for too long.
Jeff Foxworthy stars in a new internet short by Don't Be That Guy Films called "Practical Gifts", in which he explains the importance of getting loved ones "gifts they can use" instead of "gifts they want".
—->Discography
Live (1990)
You Might Be A Redneck If… (1993)
Games Rednecks Play (1995)
Crank It Up: The Music Album (1996)
Totally Committed (1998)
Greatest Bits (1999)
Big Funny (2000)
Best Of Jeff Foxworthy (2003)
Have Your Loved Ones Spayed Or Neutered (2004)
Blue Collar Comedy Tour: One For The Road (2006)
Source
Top Tracks
1
Speaking Of Words
2
Telephones In The Bathroom
3
The Way I Grew Up
4
I Don't Need To Know That
5
Jeff Gordon Enunciates
6
My Wife's Family
7
House Full Of Girls
8
It's A Different World
9
Seeing Things On The Road
10
Women Want To Talk
Top Albums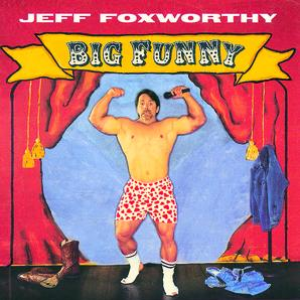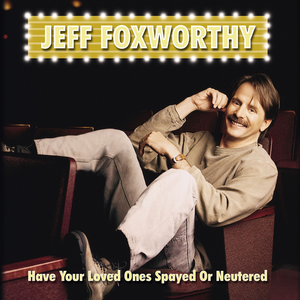 Have Your Loved Ones Spayed or Neutered
tracks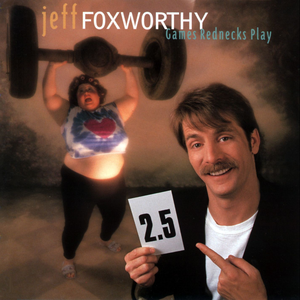 Games Rednecks Play
tracks